BIOGRAPHICAL SKETCH
of Rev. Richard Brown, late of the Troy Conference of the Methodist Episcopal Church
The particular Brown stock from which came Richard Brown was originally from England. His grandfather, Samuel Brown, when a boy of seven years, moved with his parents to Coleraine, County of Londonderry, Ireland, when he emigrated for America during the French War. He was made prisoner by the French en voyage, and taken to the West Indies. On his release, he made his way to Connecticut, landing at Saybrook. He afterwards went to Litchfield, where he married and raised a family. His oldest son, Charles Brown, was the father of the above Richard Brown. The family remained at Litchfield until the close of the Revolutionary War. At this time, the said Charles Brown was sixteen years of ago. They then removed to near Nassau, New York, about twelve miles east of Albany, where they settled and cleared up a farm from timber land. The said Charles Brown remained a single man until thirty-seven years of age, and, staying at home, managed the farm. At thirty-seven, he married a widow of twenty-one years of age, with one child. Her maiden name had been Asenath Woodard, which was changed to Brockway in her first marriage, and her son by that marriage, Jonah Brockway, became a member of the Brown family. The fruit of this marriage was eleven children, in the order here given: Eliza, Richard, James, Henry, Jane, Hiram, Susan, Asenath, Charles, Julina and Calvin. Those underscored were living in 1901.
Richard Brown was born March 12, 1807, near Nassau, New York, on the old home place. His father's home discipline was noted as very mild. The morals of the times were lax, especially as between the sexes. A certain amount of religious education was had in the family. His father and mother were both members of the Baptist Church, and his early religious influences and teachings were from and with that Church. It must be noted also that the educational advantages of that early day were very meagre. Scarcely had the closing throes of the Revolution subsided, ere the excitement of the War of 1812 was in the land. Amid such scenes, his boyhood life began. The common schools afforded the only means of education to the masses. These were sufficiently thorough for the elementary branches, but ended there. Richard Brown became proficient in all these schools could give, and was considered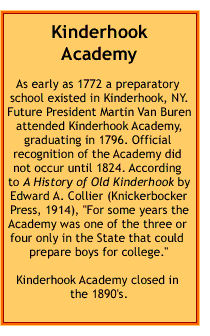 a good scholar of the day. When about eighteen, he availed himself of the advantages of Kinderhook Academy, which he attended for six months. His studious habits were kept up at home and outside of school opportunities. It was at this same time, when about eighteen, the first great temperance movement began in this country, and he became a member of what was perhaps the third Temperance Society in the land. This society was organized under the management of the Rev. John Harris of the regular Baptist Church, who was an able and worthy minister.
From 18 to 22 was the change period from home life to self-support. When 18, he took his first school and in a neighborhood where the Methodists had an established society, called the Chaney Hill Church. Now, his early religious education from his mother and the Baptist Church had been to the effect that he was one of the elect, and when God wanted him, he would give him an especial call. His new religious associations somewhat modified or unsettled his doctrinal views. He had passed through several religious revivals, and was waiting for this call. While teaching this school, he imbibed the idea from the Methodists that they did not wait for a call, but believed in "seeking the Lord." His religious state of mind, he called "drifting," which continued from 18 to 22 years of age. In the winter of the latter year, he again attended Kinderhook Academy. While there, the sudden death of a young lady, her appeals for mercy, aroused in him the resolution that he would not trust to a sick bed, which had been his idea of his time of salvation.
Another school was taken at the close of the Academic term, and the following spring, at its close, his half-brother came to him, and induced him to attend a meeting of the Presbyterians at Nassau. Here his religious conviction led him to present himself as a seeker, and he responded to the calls of the Church, and in four days he was clearly converted. He had gone to this meeting to test the Methodist idea of "seeking the Lord", and on the 6th day of May, 1829, after many and severe struggles, he emerged to the light of God in conscious salvation.
He had from previous teachings received the impression of a call to the ministry. At the above meeting, the Presbyterian people proposed to give him a liberal education and in every way possible fit and furnish him for their ministry. But he did not accept this generous offer, fearing he could not adopt or subscribe to their doctrines.
He was also much infused with the rising missionary spirit of the period. After this meeting, he went to Chatham, Columbia County, New York, to study medicine in the office of a Dr. Root. This was under the idea of thus better qualifying himself for future missionary work in connection with Judson's mission in India. At this place was another organized Methodist society. He attended their meetings and interested himself in their theology. For a year he thus studied divinity and medicine at the same time. Being still under the influence of his Baptist education and Baptist friends, he had not united with any church. About this time, however, he went to a Baptist preacher, and suggested membership in the Baptist Church, if the Baptist teaching on the subject of "election" could be satisfactorily explained to him, as he had difficulties in his mind about it. If these could be removed, he would offer himself to the Church, with the Burmah Mission in view. This the preacher failed to do. No light was given. It was a dark day. Then he began to read Wesley's sermons and Clarke's Commentaries, and found that his views chime with the Methodists. These works were obtained in and through the Methodist family with which he boarded, a family somewhat related to him. The result was he became a member of the Methodist Episcopal Church. Thus happily was mingled the study of medicine and theology. Although a strict Methodist, yet doubtless he imbibed and assimilated some of the impressible elements of the other churches named. In due time he was licensed as an exhorter.
In the winter following he again taught school, and again in another Methodist neighborhood. Prior to the opening of the school, he attended a camp meeting at Canaan Camp Ground, and was greatly blessed, but contracted a cold which so affected him that he thought he was going to die of hasty consumption. Under this impression, his call to the ministry came up, and as was common in those days, he was much disturbed. Was he really called to preach, or was he called to die? He tried to give up his school, but was persuaded to hold on, and he became the inmate of a family by the name of Dorr, a widow and a Methodist, with the experience of a high state of grace. While engaged in teaching, a meeting of great interest was begun. This occurred in the absence of the circuit preacher. In the manifest need of leadership, he took hold, and a great meeting ensued. He had thought himself used up in health, but the meeting made him better, and this was the last of his "hasty consumption." When this school term closed, he went to attend a course of Medical lectures at Pittsfield, Mass. At a Quarterly Meeting at this place, Jarvis Nichols, P. C., he received license as a local preacher. He was immediately (1832) from that point sent by the Presiding Elder, as a supply on the Middlefield Circuit, New York Conference, which he served nine months. While on this Circuit, at Hinsdale appointment, he preached from the text, "Lord, I will follow thee, but suffer me first to go and bury my father." That week he was called home to attend his father's funeral. This coincidence made a lasting impression on his mind.
In the year 1833, at the organization of the Troy Conference, at the close of what he regarded as an extra probation of nine month, Richard Brown was duly recommended and admitted on trial. He was appointed to Williamstown Circuit, Mass., Troy District, as junior preacher, with Russell M. Little as senior preacher, and Coles Carpenter as presiding elder. He was not present at the Conference when received.
He was appointed to Jay Circuit, N. Y., in 1834, as junior preacher with Barns M. Hall, a second junior preacher, John Frazier, preacher in charge, and John M. Weaver presiding elder.
The following Conference, 1835, he was sent as preacher in charge to Morristown, Vermont, but was unable to recall his presiding elder for that year. At the close of this year he was married to a very estimable lady, Miss Harriet Julia Horner.
The years l836-37 were spent on Bakersfield Circuit, Vt., as preacher in charge, with Adam Jones as assistant and P. C. Oakley as presiding elder.
1838-39, he was preacher in charge at Redford, N. Y.; 1840, as junior preacher at Wilmington and Clintonville (formerly "Jay"), Ezra Sayres preacher in charge and John M. Weaver presiding elder.
1841-42 find him at West Plattsburg, N. Y., as preacher in charge, J. M. Weaver, presiding elder.
For the years 1843-44, he was at West Addison, Vt., as preacher in charge, Joshua Poor presiding elder. He was appointed to Bristol, Vt. as preacher in charge for 1845, Joshua Poor presiding elder.
1846 at Salisbury and Goshen, Vt., as preacher in charge, with same presiding elder.
He was sent to Galway, N. Y., in 1847, and served as preacher in charge two years, with Ephraim Goss as presiding elder. In 1849 he was at North Hampton, N. Y., as junior preacher, Seymour Coleman senior preacher, and E. Goss presiding elder. In 1850 he was at Corinth, N. Y., as preacher in charge, and Truman Seymour as presiding elder. In 1851-52 find him preacher in charge at Arlington, Vt., D. C. Starks, presiding elder. 1853-54, at Ketchums' Corners, and Quaker Springs, N. Y., D. C. Starks, presiding elder. This circuit embraced the old Stillwater Battle Ground. 1855 he was in charge of Cooksboro, N. Y., and the same presiding elder. He was now supernumerary for two years, 1856-57. During this time he lived at Lansingburg and Troy, and was engaged as agent in the nursery business.
At the Conference of 1860 he was made effective and appointed in charge of Pownal, Vt., with D. C. Starks, presiding elder. In 1861 he took the superannuated relation, and thus retired from the active ministry. He then resided at Berlin, east of Troy, N. H., conducting a private school and an insurance business until the close of the Civil War.
At a number of charges, there were gracious revivals, a church was built at Ketchums' Corners, and a parsonage at West Plattsburg. At other places debts were extinguished in connection with his pastorates.
In 1867, he removed to Mount Hope, Missouri. After the death of his wife in 1870, he made his home in Kansas with his daughter, Mrs. Julia A. Whitney, for fifteen years. During this time he taught school, canvassed Allen and Woodson counties for the American Bible Society, and was fruitful in all church work.
Since 1885, his home was with his daughter, Mrs. M. V. Powell, near and at Odessa, Mo. until his death. Here his life and work were "known and read of all men." He never ceased to be a worker and a leader in work.
Paul's declaration of himself was distinctly and forcibly illustrated in Richard Brown. "For him to live was Christ." He gave an untiring zeal to establish and build up the cause of Christ through the church of his choice.
It is not easy to overdraw in eulogy the character, life and influence of Richard Brown. He was a man of mark wherever placed. Could he have had the advantages of a liberal education and an impressive bodily presence added to his native qualities and talent, he might have reached position below few in the church. And he was largely and truly a self-made man. His literary gifts and scholarship were far above the ordinary. He was a Greek and Latin scholar of no mean order. His quite ready acquaintance with the arts, sciences and history, as well as current events, indicated the student mind and a carefully chosen, if not wide, range of reading. It is not usual to find men of his age so promptly up-to-date as he was.
He was a man of far more than ordinary strength of character, evinced in much will-power, strong personal convictions, independent judgment and tenacity of purpose. To these he added a retentive memory, quick decision and rapid executive force.
As a result of these, his spirit was aggressive. He could not be idle or indifferent in the presence of wrong or duty. Responsibility must be discharged, not ignored - difficulties conquered, not yielded to. To such a character, life would not be smooth or void of mistakes. There must needs be friction and conflicts, but there would also be great satisfactions and marked achievements. His infirmities were only such as are common to all, but they were overborne by virtues and sterling qualities which will make his memory as "ointment poured forth."
His lifetime was the period of the greatest religious movements. All the great religious agencies, missions, church building, education, were born since himself. Even the Sunday-school cause was in its infancy.
Of all these he was a close and deeply interested observer and student. He never sympathized with the thought that the former times were better. He marched in the front ranks, and was constantly abreast of the times.
The last six months of life were marked by increasing feebleness of body and some weakening of the mental powers. However, his mind, when roused, was clear and responded to the end.
At a delightful communion service held in his room shortly before his death, he said, "The dying is all past, and I am only waiting to enter the heavenly door." A day or so before he died, he listened to the Scripture with close attention and with intelligent, feeling response. Thus he evinced in many ways and times the sense of a completed and assured readiness for the great change.
He endured his frequent sufferings with patience and great peacefulness.
On Friday morning, August 15, 1902, the "weary wheels of life at last stood still." "Mark the perfect man and behold the upright, for the end of that man is peace."

Note: This biographical sketch was written as a eulogy and therefore probably in 1902. The author is unknown.